In February I'll have two sweet new nephews and I am so excited. That combined with the fact that it's fall, means I've been crocheting baby blankets in my spare time.
I've finished one and I am in love with how it turned out. I think it's just perfect for a little boy.
I love how the striping give a little nod to pinstriping and working in the moss stitch means it was pretty mindless. I wouldn't say it was quick, as it is worsted weight yarn and a smaller hook, but I could do it while watching TV, because there's no counting.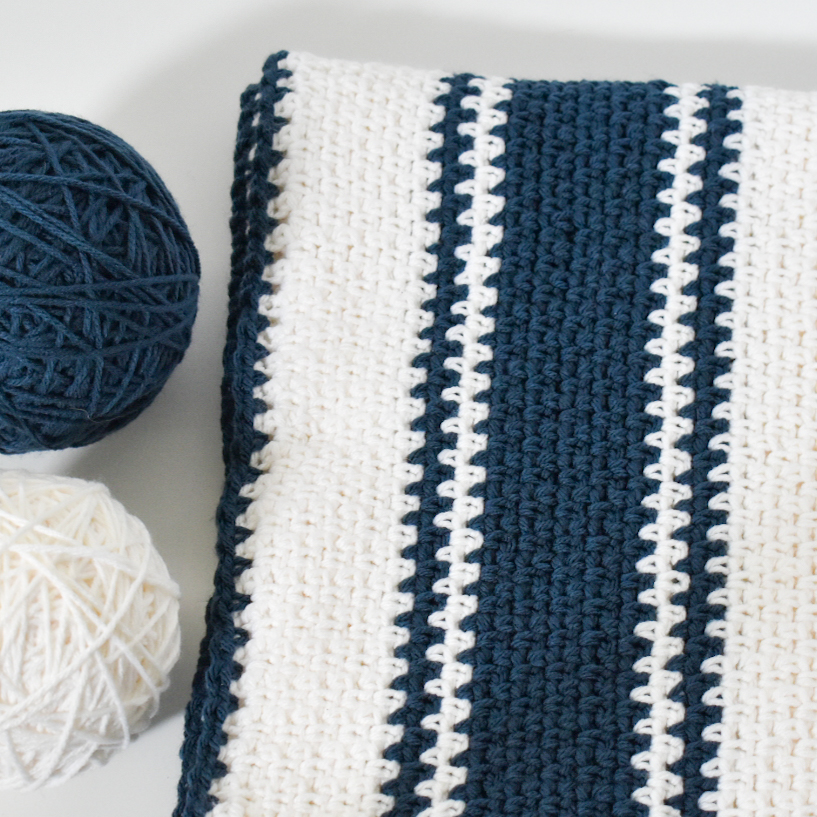 Abbreviations
SC – single crochet
SC Ch1 – single crochet then chain one
Ch1Sp – chain one space (the space created underneath the chain one, between the single crochet posts)
Gauge
4″ x 4″ = 20 stitches x 18 rows
Final Dimensions
36″ x 30″
Materials
Caron One Pound skein, one each in White and Cape Code Blue (I only used about half of each skein), any worsted weight yarn would work
Size H hook – I really like my Susan Bates comfort grip hook (and nobody pays me to say that.)
Tapestry Needle
Scissors
Ruler or Measuring Tape
Pattern
Chain 154 (or any even number).
Row 1: Start with a SC in the fourth chain from the hook. Ch1. Skip one loop of the base chain and work a SC in the next loop. Ch1. Continue working a SC Ch1 in every other loop of the base chain. You should end with a SC in the last loop of the base chain. Chain two and turn.
Row 2: Work a SC into the first Ch1 space (between the turning chain and last SC post of Row 1). Continue working *SC Ch1 into each Ch1Sp across the row, ending with a SC in the space between the last two SC posts. Ch 2 and turn.*
The stitch pattern between the asterisks above is known as the moss or linen stitch. You will continue with this stitch for the remainder of the blanket. Once you've reached you desired size, simply tie off and weave in your ends. You can add a border if you'd like. Mine is below.
My Striping Pattern
You can change colors and row counts to get your desired striping, but here is what I used.
Rows 1-10: White
Rows 11-12: Blue
Rows 13-14: White
Rows 15-24: Blue
Rows 25-26: White
Rows 27-28: Blue
Repeat this pattern until the blanket has reached your desired size.
I did 4 repeats, plus 10 rows of White, for a total of 5 blocks of 10 rows of White and 4 blocks of 10 rows of Blue. (I hope that makes sense.)
Border
When I reached the end of the last row (which was white), I pulled through with blue and worked a row of moss stitch. When I reached the last space of the row, I worked three single crochets into it to turn the corner, then I worked a moss stitch down the side, by working my SC around the end post of every other row. (You may need to play with your spacing to get it right so it will lay flat, but this is what worked for me.)
Work 3 SCs into the last Ch1Sp to turn the corner and work another row of moss stitch. Work 3 SCs into the last Ch1Sp of the row to turn the last corner and work a moss stitch up the final side of the blanket. When you reach the last Ch1Sp, work two single crochets (the turning chain you started the border with will count as your third SC) and tie into the turning chain you started the border with. Weave in your ends.
If you have any questions, leave a comment below!
Thanks for stopping by!