I really do try to plan out what I'm going to post here and I have a pretty hefty list of recipes I want to test and button up (aka get actual measurements for), but nine times out of ten I make something that's so good I know I need to write it down so I don't forget. Then I just end up putting it here, because if it's that good, I know I'm going to be talking about it.
To be fair, this recipe started with me trying to follow through on a plan. I was working on a "how to pan sear chicken breast" post but then the salad I served it with turned out so good (and pretty) that I knew I needed to take some pictures and post it.
I knew I wanted to serve these pan-seared chicken breasts with a salad and since we had romaine, strawberries, blueberries, and pecans, I went with that rather than go get groceries. I never mind grocery shopping once I'm actually at the store, but psyching myself up to get there is a struggle. Just me?
So, I did a quick Google search to get an idea of what type of dressing to use and found a Taste of Home salad recipe with ingredients that were similar to what I had on hand. They used a red wine vinaigrette, so that's what I went with.
I just used my standard vinaigrette recipe – 2 parts olive oil, 1 part vinegar, and a pinch of salt. This formula will work with pretty much any type of vinegar – balsamic, apple cider, rice wine, champagne, whatever you have — and any of those would be good on this salad. I also added a little honey, because I thought that little bit of sweetness would be good with the berries.
So to make this, you just combine all the vinaigrette ingredients in a jar with a tight fitting lid (I used a mason jar) and shake it well. I let my daughter shake ours up while I cut the salad ingredients.
In a large bowl, toss the lettuce, fruit, and nuts in just enough vinaigrette to coat it. I used romaine, but spring mix, baby spinach, or arugula would have been really good too.
Transfer it all to a serving platter and top with chicken. Like I said, I used pan seared chicken breast because that's what I had, but any cooked chicken (like this IP Rotisserie Chicken) will work.
Add more vinaigrette if you're so inclined. You could also top this with cheese at this point. If we had had blue cheese, I would have been all over that. Feta or burrata would have been nice too.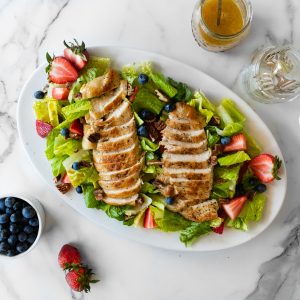 Chicken and Summer Berry Chopped Salad
This summery salad is the perfect light lunch or dinner and great for using up left over grilled chicken.
Ingredients
Red Wine Vinaigrette
1/2

cup

olive oil

1/4

cup

red wine vinegar

1/2

teaspoon

kosher salt

2

tbsp

honey
Chicken and Summer Berry Salad
2

heads of romaine lettuce

chopped

2

sliced, cooked chicken breasts

Pan-Seared Chicken Breast Recipe Linked Below

1/2

pint

strawberries

quartered or sliced

1/2

pint

blueberries

1/2

cup

pecans

chopped
Instructions
Red Wine Vinaigrette
Combine all ingredients in a jar with a tight-fitting lid. Shake well to combine.
Chicken and Summer Berry Salad
In a large bowl, toss chopped romaine, berries, and pecans with red wine vinaigrette. Transfer to a serving dish and top with sliced chicken.
Notes
Sub any berries or nuts you like – blackberries, raspberries, walnuts, sliced almonds. Whatever you like. 
This dressing is super simple, but if you'd rather use store-bought, any red wine vinaigrette, french dressing, or raspberry vinaigrette would be good on this. 
I didn't have any, but I bet blue cheese, feta, or burrata would be a delicious contrast to this sweet salad.