I have been on an espresso kick since I watched Bri McKoy make a homemade Starbucks Doubleshot on Instagram. If you're not following her, you should be. She's a delight and her recipes are fantastic.
I promptly bought a Moka Express – basically a stovetop espresso pot – and I've had an iced espresso drink every single day since. I made the mistake brilliant decision to buy the three cup model, so I can make enough espresso for two drinks at a time. I do not recommend two in a day if you have any underlying heart conditions and/or plan to sleep at any point in the next twenty-four hours…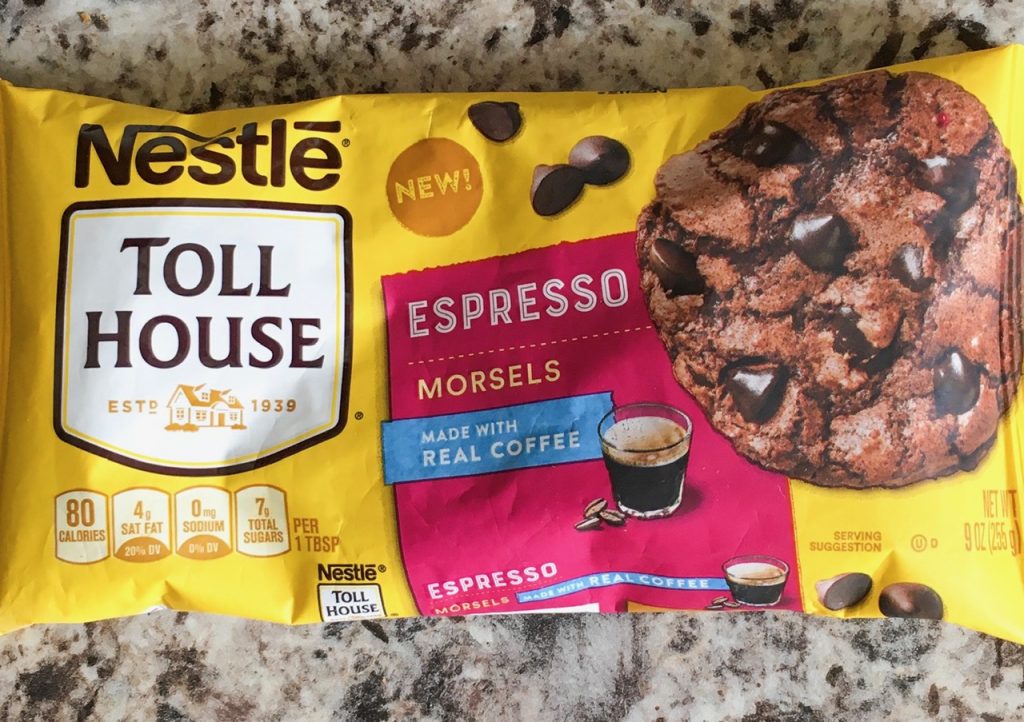 Amid the espresso-fueled chaos that has been our home recently, my husband came home from the grocery store with these Nestle Toll House Espresso Morsels.
They're so good. They taste exactly like you'd want them to, dark chocolate meets strong coffee. We made a batch of S'mores Crispy Treats with them and they were a great balance to the super sweet crispy treat.
They would also be really good in these Brown Butter Oatmeal Chocolate Chip Cookies.
But these Vanilla Latte Scones are where they really shine. They are divine.
My husband got me the second edition of Magnolia Table for Mother's Day, which was right around the time these espresso morsels showed up in my pantry, so after I read Magnolia Table cover to cover (totally normal), I used Joanna's scone recipe as a starting point for this recipe.
I whittled it down to a pretty basic vanilla scone recipe and then jazzed it back up with espresso morsels and a vanilla latte glaze.
This was originally a lot sweeter, but as someone who generally drinks my coffee black and my lattes unsweetened, I ended up cutting the sugar and letting the coffee flavor shine. If you like yours a little sweeter, you can increase the sugar to 1/2 a cup without needing to make any other changes.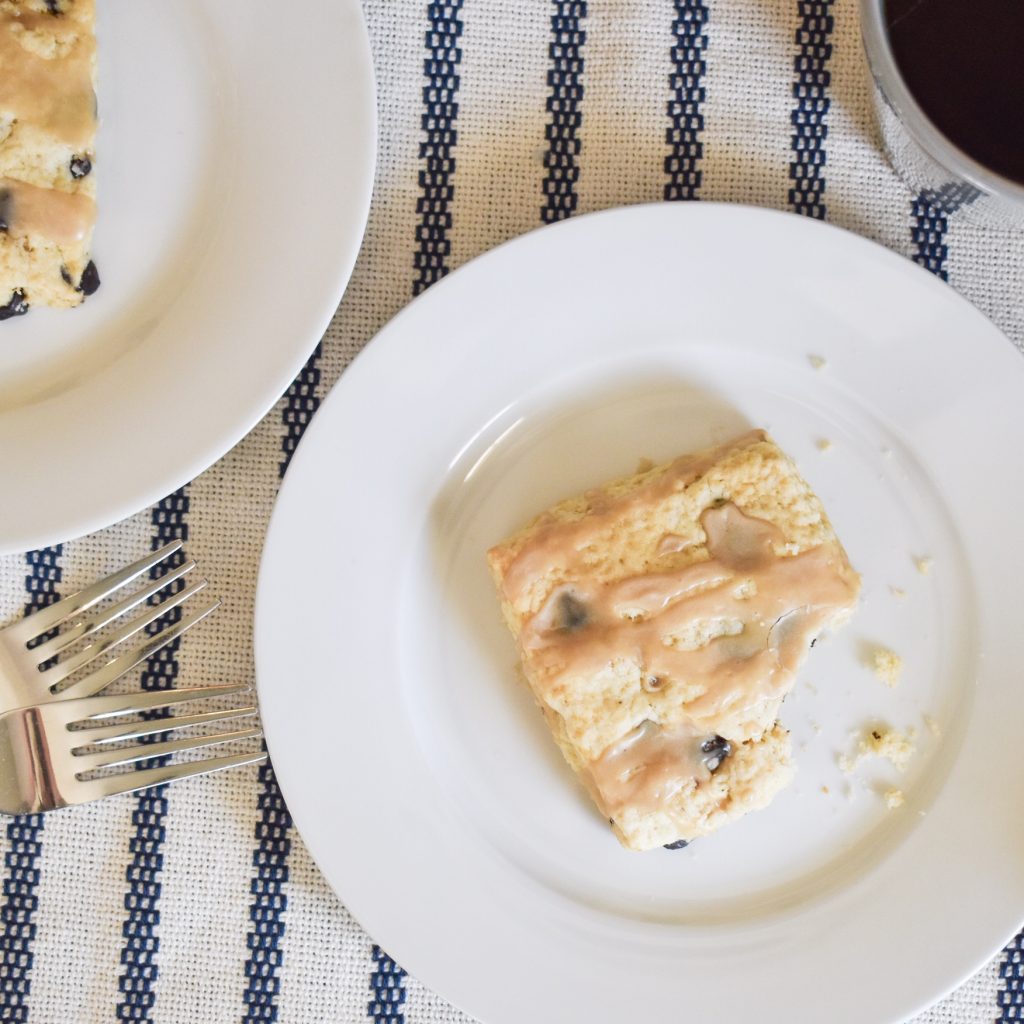 Ingredients:
Scones: 
1¾ cup flour 
⅓ cup granulated sugar
1 tablespoon baking powder
½ teaspoon kosher salt
½ cup (1 stick) unsalted butter
1 large egg
½ cup heavy cream
2 teaspoons pure vanilla extract
1 cup espresso chocolate chips (I used Nestle Tollhouse Espresso Chips)
Glaze:
1½ tablespoons espresso
½ tablespoon heavy cream
¼ teaspoon pure vanilla extract
½ cup powdered sugar
Directions:
Cut butter into ½ inch cubes, place on a small plate, and put the butter into the freezer while you get the rest of the ingredients ready. 
In a medium bowl, whisk together the egg, heavy cream, and vanilla extract. 
In a large bowl, whisk together the flour, sugar, baking powder, and salt. 
Remove butter from the freezer, add it to the dry ingredients, and cut it in using your fingers or a pastry cutter until it resembles coarse cornmeal. Add espresso chips and stir to combine. 
Add wet ingredients to the dry ingredients and mix to combine with a fork. Once the dough starts to come together, use your fingers to work it into a dough. (You want to try use your fingers and not your palms so you don't warm the dough too much. You don't want the butter to get overly soft or your scones won't be flaky). 
Dump the dough onto a lightly floured surface and roll it out into a ½ inch thick rectangle (about 6"x8" but don't overthink it). 
Cut into 12 squares (about 2"x2", but again, don't overthink it). 
Transfer scones to a parchment-lined baking sheet spaced about 2 inches apart and loosely cover with plastic wrap. Place in the fridge for 15-20 minutes or overnight. 
When ready to bake, preheat the oven to 375°F and bake scones for 15-20 minutes or until they're very lightly browned around the edges. Transfer to a wire rack to cool. 
Meanwhile, prepare the glaze by whisking together espresso, cream, vanilla, and then slowly whisking in powdered sugar until it is smooth and reaches the desired consistency. You may need to add slightly more powdered sugar. 
Once the scones have cooled, drizzle with glaze and store in an airtight container. They'll stay fresh for a couple days.
Optional:
If you are unable to find espresso morsels, dark chocolate chips could be used instead. I would just double up on the glaze to increase the espresso flavor.